Fear of Firing
How the threat of litigation is making companies skittish about axing problem workers
Michael Orey
Business Week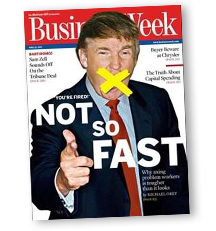 Would you have dared fire Hemant K. Mody?
In February, 2003, the longtime engineer had returned to work at a General Electric Co. (GE) facility in Plainville, Conn., after a two-month medical leave. He was a very unhappy man. For much of the prior year, he and his superiors had been sparring over his performance and promotion prospects. According to court documents, Mody's bosses claimed he spoke disparagingly of his co-workers, refused an assignment as being beneath him, and was abruptly taking days off and coming to work late.
But Mody was also 49, Indian born, and even after returning from leave continued to suffer a major disability: chronic kidney failure that required him to receive daily dialysis. The run-ins resumed with his managers, whom he had accused flat out of discriminating against him because of his race and age. It doesn't take an advanced degree in human resources to recognize that the situation was a ticking time bomb. But Mody's bosses were fed up. They axed him in April, 2003.
The bomb exploded last July. Following a six-day trial, a federal court jury in Bridgeport, Conn., found GE's termination of Mody to be improper and awarded him $11.1 million, including $10 million in punitive damages. But the award wasn't for discrimination. The judge found those claims so weak that Mody wasn't allowed to present them. Instead, jurors concluded that Mody had been fired in retaliation for complaining about bias. GE is seeking to have the award overturned, and a spokesman said, "We feel strongly there is no basis for this claim." Through his attorney, Mody declined to discuss the case with BusinessWeek.
…
WHEN MODY SIGNED GE'S JOB application in 1998, the form said his employment was "at will" and "the Company may terminate my employment at any time for any reason."
Well, not exactly.
The notion that American workers are employed "at will"—meaning, as one lawyer put it, you can be fired if your manager doesn't like the color of your socks—took root in the laissez-faire atmosphere of the late 19th century, and as an official matter is still the law of the land in every state, save Montana. The popular conception of at-will employment is exemplified by the television show The Apprentice, which features Donald Trump pointing a finger at an underling and ousting him or her on the spot. That dramatic gesture makes great television, but it isn't something that happens very frequently anymore in the American workplace.
The rise of unions was the first development to put a check on summary dismissal. Collective-bargaining agreements outlined the specific kinds of infractions that could lead to termination, and set up procedures for discipline and review that a company must follow before a worker can be fired. But unions generally didn't deal with the problem of discrimination, and in some cases perpetuated it.
For most American workers now, their status as at-will employees has been transformed by a succession of laws growing out of the civil rights movement in the 1960s that bar employers from making decisions based on such things as race, religion, sex, age, and national origin. This is hardly controversial. Even the legal system's harshest critics find little fault with rules aimed at assuring that personnel decisions are based on merit. And most freely acknowledge that it is much easier to fire people in the U.S. than it is in, say, most of Western Europe. Mass layoffs, in fact, are a recurring event on the American corporate scene. On Apr. 17, for example, Citigroup Inc. (C ) announced it will shed some 17,000 workers.
Yet even in these situations, RIFs (for "reduction in force") are carefully vetted by attorneys to assess the impact on employees who are in a legally protected category. And these days the majority of American workers fall into one or more such groups. Mody, for example, belonged to three because of who he was (age, race, and national origin) and two more because of things he had done (complained of discrimination and taken medical leave). That doesn't mean such people are immune from firing. But it does mean a company will have to show a legitimate, nondiscriminatory business reason for the termination, should the matter ever land in court.
As it happens, the judge in Mody's case tossed out his discrimination claims. But the retaliation allegation did go to the jury—a development that is increasingly blindsiding businesses. Plaintiffs are winning large sums not because a company discriminated against them, but because the company retaliated when they complained about the unproven mistreatment.
The rules surrounding retaliation may sound crazy, but they are one of the big reasons why the fear of firing is so prevalent. Retaliation suits are a hot growth area in employment law. In 2005 and 2006, retaliation claims represented 30% of all charges individuals filed with the Equal Employment Opportunity Commission, a required first step before most discrimination cases can go to federal court. That's up from about 20% just 10 years ago. "Even if there isn't a good discrimination claim, the employee has a second bite at the apple," notes Martin W. Aron of defense firm Edwards Angell Palmer & Dodge in Short Hills, N.J. Last year the U.S. Supreme Court increased the legal risk to business by ruling that improper retaliation can involve acts far short of firing or demoting someone. So even exluding an employee from meetings, relocating his or her office, or other intangible slights could lead to liability.
…
Ironically, when it came to handling personnel issues involving Mody, GE managers appear to have done most things right, offering regular and candid performance appraisals and involving HR and legal personnel at an early stage when matters began to sour. In trial exhibits and testimony, Mody's GE supervisors described him as a talented but prickly worker. Performance reviews and other documents faulted both his people and leadership skills.
But in the trial against GE, Mody's attorney, Scott R. Lucas of Stamford, Conn., laid out the details of what he labeled a campaign of retaliation against his client. Following a July, 2002, memo in which Mody accused the company of discrimination, Lucas told jurors, Mody's boss began complaining that he was absent and tardy too often. In a court filing, Lucas called this "a contrived performance issue," and says Mody was also "falsely criticized for lack of output."
What's more, just six weeks after having given Mody a "very favorable review," his boss gave Mody a "very poor and critical evaluation," according to the filing. Mody was excluded from various conferences and removed from "meaningful contribution" to projects. At one point, Mody's boss allegedly told him: "There are things I can ask you to do that if I asked you to do them, you would just quit." The last straw for Mody came when he returned from medical leave and was asked to do an assignment that he alleged was low-level and intentionally demeaning.
On July 18, jurors awarded Mody about $1.1 million in back pay and compensatory damages and—in one of several aspects of the case being challenged by GE—a tidy $10 million in punitive damages. Even for a company as big as GE, an $11.1 million verdict is plenty of cause to justify a fear of firing.
Copyright 2007, Bloomberg L.P.