Seeing the Litigator as the Cowboy, Lucas Winds up in Million Dollar Advocates Forum
Paul Grondahl
Albany Law Magazine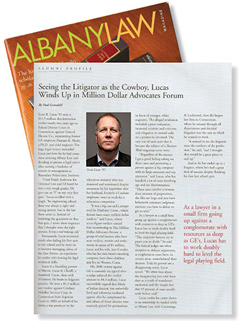 Scott R. Lucas '85 won a $12.5 million discrimination verdict nearly two years ago in federal District Court in Connecticut against General Electric Co., representing former GE employee Hemant K. Mody, a Ph.D. and chief engineer. The large legal victory reminded Lucas just how far he had come since entering Albany Law and deciding to pursue a legal career after earning a bachelor of science in management at Rensselaer Polytechnic Institute.
"I had Frank Anderson for Criminal Law and I'd heard he was a very tough grader. He gave me an 'F' on my very first quiz," Lucas recalled with a laugh. "In engineering school, there was always a right and wrong answer, but in the law there never is. Instead of analyzing the questions on that first quiz, I wrote short responses that I thought were the right answers. It was a real wakeup call."
Fortunately, Lucas recovered nicely after failing his first quiz in law school and he went on to become managing editor of the Law Review, an experience he credits with honing his legal analytical skills.
Lucas is a founding partner of Martin, Lucas & Chioffi, a Stamford, Conn., firm with 10 lawyers. He heads its litigation practice. He won a $1.3 million jury verdict against Cendant Mobility Services Corp. in Connecticut State Supreme Court in 2003 on behalf of his client, a top producer in the relocation industry who was demoted and terminated despite assurances by her supervisor after her husband, formerly a Cendant employee, went to work for a relocation competitor.
"It was a big case and a unique trial for Danbury, Conn., which doesn't have many million-dollar verdicts," said Lucas, whose seven-figure verdicts earned him membership in The Million Dollar Advocates Forum, a group of trial lawyers who have won verdicts, awards and settlements in excess of $1 million. Lucas and his wife, Jane Cavalier, who has her own brand consulting company, have three children and live in Weston, Conn.
His 2006 victory against GE is currently on appeal after a judge reduced the verdict amount to $8.3 million. Lucas successfully argued that Mody, of Indian descent, was unlawfully fired and otherwise retaliated against after he complained he and others of Asian descent were routinely passed for promotions in favor of younger, white engineers. The alleged retaliation included a poor evaluation, increased scrutiny and criticism, and relegation to menial tasks on a project he invented. The case was of such note that it became the subject of a Business Week magazine cover story.
"Regardless of the money, I get a good feeling taking on these cases and protecting a person against a big company with its large resources and top attorneys," said Lucas, who has handled a lot of cases involving age and sex discrimination. "These cases involve a tremendous amount of preparation, the files are large and you have behemoth summary judgment motions you have to defeat to get to trial."
As a lawyer in a small firm going up against a conglomerate with resources as deep as GE's, Lucas has to work doubly hard to level the legal playing field. "The corporate lawyers try to paper you to death," he said. The federal judges are often receptive to defense arguments, as employment cases have, in certain areas, overwhelmed their dockets. Trials in general are a disappearing event, Lucas noted: "We often hear about the disappearing jury trial these days as a result of mandatory mediation and the simple fact that 95 percent of cases usually settle before trial."
Lucas credits his career choice to an internship he landed while at Albany Law with Cummings & Lockwood, then the largest law firm in Connecticut, where he rotated through all departments and decided litigation was the area in which he wanted to work.
"It seemed to me the litigators were the cowboys of the profession," he said, "and I thought that would be a great place to end up."
And so he has ended up as a litigator, where he's had a great deal of success, despite flunking his first law school quiz.